Photos by Bruce Patterson
(Scroll down for more photos and for salmon fishing information)
View Old Fishing Photos
View Archived Photos
Current conditions on the York River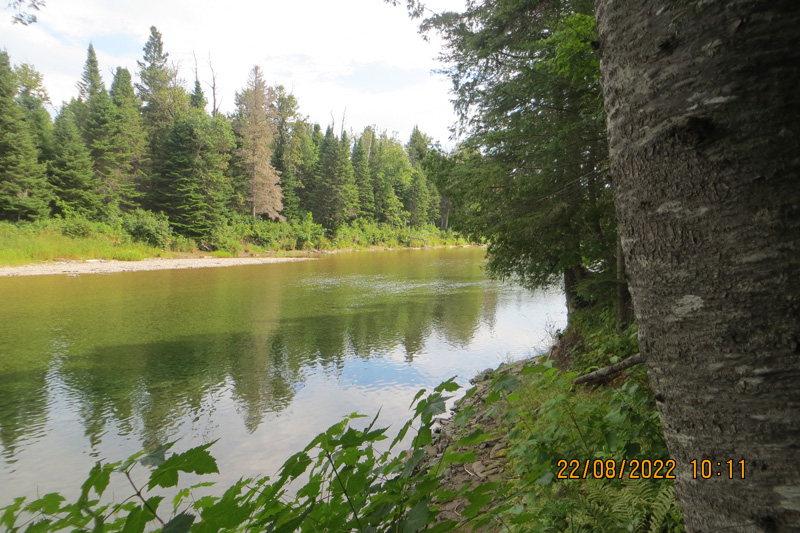 Gaspe nature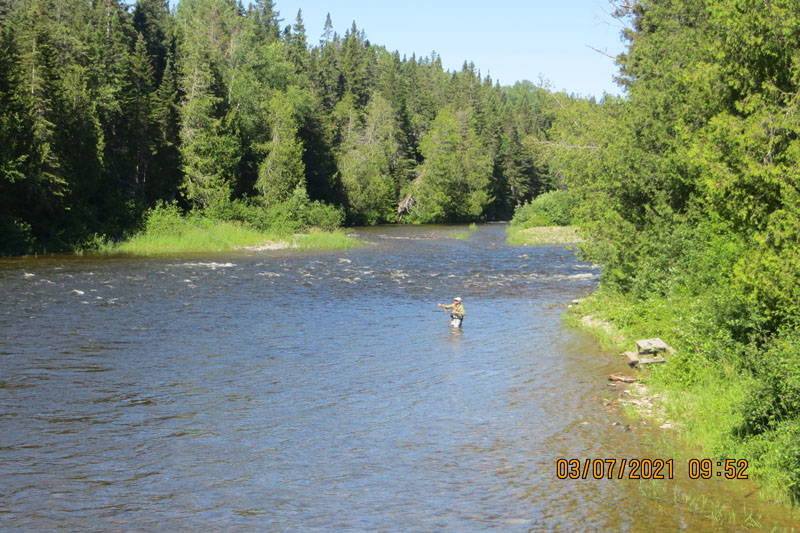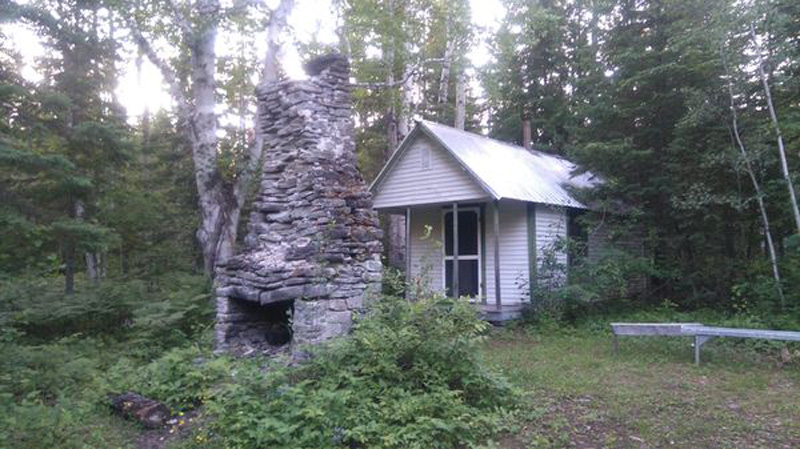 Photo from the past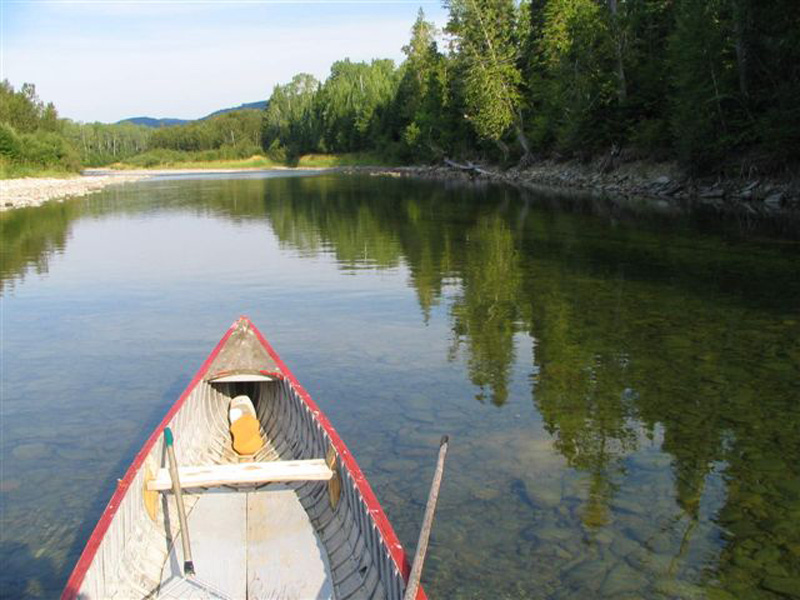 Salmon fishing summary
by Bruce Patterson
April 22nd, 2018, Striped bass are appearing in the hundreds of thousands in the lower Miramichi River, creating a threat to the recovery of wild Atlantic salmon there - and elsewhere in the Gulf of St. Lawrence and beyond. Photo ASF On April 13, two days before the opening of the recreational fishing season in New Brunswick, Fisheries and Oceans Canada announced changes to the rules on striped bass for the southern Gulf of St. Lawrence population. Instead of 1 or 2 striped bass per day, anglers in the southern Gulf of St. Lawrence (N.B., N.S., P.E.) will be allowed to retain 3 fish per day for the entire season. A spawning closure that lasted 9 days and covered 10km (6 miles) of the Northwest Miramichi last year will shrink to 5 days and cover 6.5km in 2018. The changes are the result of both the meteoric rise of striped bass in the Gulf and perhaps new information on how other species are affected. It's a fascinating story not witnessed before in living memory and poses serious questions for scientists and regulators. However, the population has been huge in the past. Records of fisheries from Miramichi show catches of hundreds of thousands of pounds in the 1870s. From a few thousand to nearly 1 million The phenomenal growth of the striped bass population has been headline news in recent years. According to DFO's latest assessment, the number of large, spawning striped bass has exploded from 318,000 in 2016 to a whopping 994,000 in 2017, a three-fold increase in just one year. All these fish come annually to the population's only known spawning grounds – the Northwest Miramichi River estuary. The bass explosion is remarkable, especially considering the total numbers of stripers was estimated between 3,000 and 5,000 in the 1990s. It was low enough for the Committee on the Status of Endangered Wildlife in Canada (COSEWIC) to assess the population as threatened in 2004. Now stripers are showing up in places where they've never been seen before.New regulations on moose hunting for non residents. this was my response to moose hunting in Quebec by a non residebt on private land. Inbox x renseignements@mffp.gouv.qc.ca 1:01 PM (1 hour ago) to me cid:image001.png@01D18B1F.9A8DDB10 Dear Sir, Further to your request, we invite you to click on the following link: · Specific rules applicable to non-residents https://www.mffp.gouv.qc.ca/english/publications/online/wildlife/hunting-regulations/special-rules/non-residents.asp In order to hunt moose south of the 52nd parallel, the non-resident owner of a private land or not must use at least two services offered by an outfitter, including lodging or hunting in a controlled harvesting zone (zec) or in a wildlife reserve, except in the following cases: he is a member of the Royal Canadian Mounted Police or the Canadian Armed Forces and performs his duties in Québec or lived in Québec immediately before establishing his residence outside Québec for the performance of his duties; he is a member of a diplomatic mission or consular post established in Québec, including as a member of the service personnel; he is accompanied by a member of his immediate family who is a resident who holds a valid or expired moose hunting licence, provided, in the latter case, that it was issued between April 1 and March 31 of the current year. Members of the holder's immediate family are his grandparents, parents, brothers, sisters, spouse, children and grandchildren, and the children and grandchildren of his spouse. We thank you for your interest in the Ministère des Forêts, de la Faune, et des Parcs, and take advantage of this opportunity to invite you to submit your opinion as to whether or not you feel we have met our commitments and provided adequate service, by clicking on the following link: http://www.mffp.gouv.qc.ca/english/department/statement/statement-opinion.asp Yours sincerely, new salmon fishing regulations for 2018. 1 tag for adult salmon and 3 for grilse. See "gogaspe facebook page"for new regulations by ASF on salmon fishing in Quebec. For Immediate Release no big snow storms simce February 23rd. A final salmon count has been done on all three rivers in Gaspe in September and the results were very good on the York and Dartmouth rivers with count on the St Jean not as good. York had 160 grilse and 1170 adult salmon for a total of 1330. Dartmouth had 100 grilse and 870 adult salmon for a total of 970.. St Jean had 82 grilse and 543 salmon for a total of 625.... Hunting seasons and regulations for 2018 shown below. See ASF rivernotes and stats for Gaspe rivers. (Click below). See salmon page for hunting regulations and dates for hunting in Quebec .
salmon fishing season in Quebec
atlantic salmon river notes Sept 1st
How the pools on York river got their name.


2018 hunting regulations Quebec
salmon fishing regulations
spider catches fly video
50 fishing knots can be seen under pictures menu at the left of this page.
50 knots
solunar tables (enter area code with space G4X 2M7)
PLEASE NOTE: all links for fishing are now on the upper left side of this page.
"photo #1" "ice is now gone from the York river below the bridge,"
"photo# 2" "fall colors sept 26, 2017"
"photo# 3" "kids having fun trying their luck."
"photo #4" " A calm and peaceful morning on "hanks run"