May-Aug Activity Schedule
(Tentative)
Sep-Dec Activity Schedule
(Tentative)
---
News
ChoiceHotels.ca will recognize the FADOQ card and give a 15-20% discount (sometimes better than the regular seniors rate). But in order to receive this rate you need your FADOQ card and a client file id # 00088995. It may well be that other Hotels/Motels will also honor this card. Never hurts to ask for a discount.
The list of businesses which offer discounts to FADOQ members is online. Click the link above.
If you have some photos of Seniors Activities, please send some for inclusion on the web site. Email them to andy@gogaspe.com
Our Activities:
Line Dancing
Card Parties
Moonlight Walks
Snowshoeing
Tuck and Cribbage
Bowling
Afternoon Teas
Dances
Picnics in Forillon
Bus Trips to Perce
Meet & Greet twice a year
---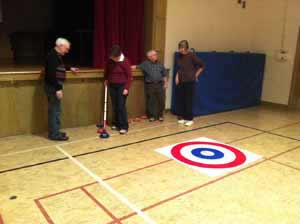 Kurling at Gaspe Elementary
Check our
Facebook Page
for updated photos and information.
15457 hits since Dec. 24, 2011

Copyright © 2011
All Rights Reserved.
Web Site by
PCSDesign